| | |
| --- | --- |
| www.MyAirship.com | The Reference on Airships |
Westinghouse Airships Inc.
Westinghouse Airships Inc. was formed after the collapse of Airship Industries in the UK which had been cooperating with the Westinghouse Defense Group on the design and production of the Sentinel 5000 (military designation YEZ-2A) for the US Navy. During the cooperation the airship operations were also known as Westinghouse Airship Industries (WAI). Westinghouse took over all the Airship Industries designs including the Skyship 500, 500HL and 600. WAI also continued the development of the Sentinel 1000, a smaller demonstration version of the Sentinel 5000 that was to be fitted with Zoche Aero-Diesel Engines. Unfortunately, the prototype was lost when the airship hangar at Weeksville, North Carolina was completely destroyed in a fire during the summer of 1995.

Both Westinghouse Airships Inc. and Westinghouse Surveillance Systems Ltd. were purchased by Aviation Support Group Ltd. on December 12th 1996. The two companies are now known as Global Skyship Industries (Inc. and Ltd. respectively). Their sister company, Airship Operations Inc. is currently operating a 500HL and is about to assemble a Skyship 600B for operations in the United States (as of April 1997). Three further Skyships are scheduled to begin/resume operations in different parts of the world before the end of 1997.

Also in 1996, John Wood and Roger Munk, the founders of Airship Industries moved back to the United Kingdom, where it all began in 1971. Their almost legendary company was incorporated under a new name as Advanced Technologies Group. Work on many new and groundbreaking projects is in progress at ATG.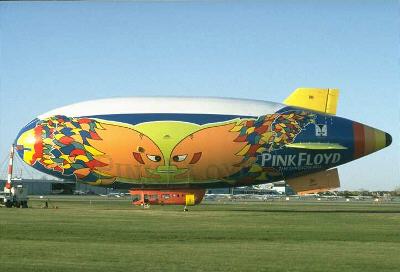 Skyship 600 used for a Pink Floyd promotional tour.
Technical Data for Skyship/Sentinel Airships
Skyship 500
Skyship 500HL
Skyship 600
Sentinel 1000
Length overall
31.00 m (101 ft 8.5 in)
34.00 m (111 ft 6.5 in)
? m (194 ft)
? m (? ft ? in)
Max. diameter
12.40 m (40 ft 8.25 in)
13.87 m (45 ft 6 in)
? m (63 ft)
? m (? ft ? in)
Volume
? m3 (? cu ft)
? m3 (? cu ft)
? m3 (235,000 cu ft)
? m3 (? cu ft)
Max. speed
?
?
?
?
Endurance
?
?
?
?